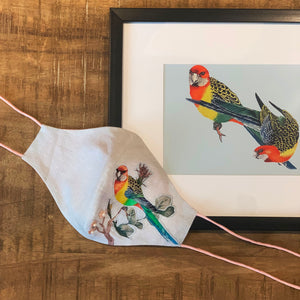 A machine washable fabric mask made from two layers of dense weave cotton linen and cotton poplin. The external layer is blue cotton linen with a hand embroidered applique and the internal is pink cotton poplin with strings to be tied behind your head.

Please Note: We make no claims as to the level of protection that this mask may or may not provide. This is NOT a medical grade mask.

For sanitary reasons, this product is not returnable.

Care Instructions: For best results, wash by hand in cold or warm water using mild detergent. Air dry. To wash by machine, wash with like colors using cold or warm water and mild detergent. To prolong the life of your mask, wash in a mesh laundry bag using the gentle cycle. Do not use fabric softener, as it may cause dyes to bleed. Air dry.

For international orders: all customs fees, duties, and taxes are the responsibility of the purchaser.

Masks will be shipped to you in 7-10 days of your orders